The hubs and I were both lucky enough to be home sick with the flu all last week. And if there's anything that I hate more than being sick, it's the first day back at work after a week out of the office. Need I say I was dreading Monday.
That was until I saw one new comment from Rachel over at
Lovely Crafty Home
letting me know that she featured my
sunburst mirror
! I'm a newbie in blog world and this is my
very first feature
! Need I say, there was
an entire commute full
a bit of awkward high pitched squealing going on yesterday in the car on the way to work!
Thanks Rachel!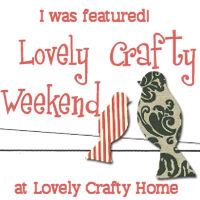 PS - This means I get to create a featured page! Maybe I'm going a bit overboard?!?